Chloe Scott-Moncrieff, food journalist and co-founder of the YBF Awards celebrating new UK food and drink talent, takes the train to a culinary adventure in Marlow
Shooting through the vast urban sprawl, our train quickly enters landscapes as pastoral as a Gainsborough painting. Bucolic fields ploughed to a chocolate-coloured crust, cows, and vermillion brick cottages appear in a blur across Berkshire, then Buckinghamshire. Finally, the narrow-boat speckled Thames interrupts the farmlands, and Marlow, our destination, appears.

My friend Oli and I are heading to this Georgian market town to eat. These days, it rivals nearby Bray as a food-lover's day trip, a place to escape the city for a foodie adventure, enjoy a quieter life and indulge in its restaurants and cafés. While Bray has Heston Blumenthal's Fat Duck and Alain Roux's Waterside Inn, Marlow is home to the UK's first pub to have two Michelin stars, Tom Kerridge's Hand and Flowers. Alongside this, Kerridge, a celebrity chef, runs the Coach, a more relaxed pub, and the newly opened Butcher's Tap. Hearing about the latter's fast-growing reputation as a carnivores' haven, it's the one we're on a mission to try.

From the station, we wander down Station Road, on to the High Street and in minutes arrive at an inconspicuous shop on Spittal Street, which we only identify as our stop thanks to the giant cartoon of a pig on a bike on a wall next to the words "Master Butcher and Pub".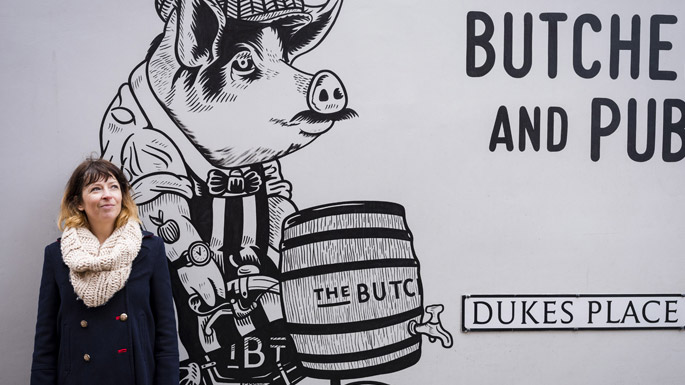 Enter, and it's no frills, but, of course, the food is serious, with sausages hanging in the window, and carcasses of Hereford and Angus 38-day aged beef darkening to shades of rich purples.

This establishment is a butchery for Kerridge's restaurant and his catering business, but also supplies snacks and ales at modest prices to punters on stools near the counter. Here, Kerridge has partnered with master butcher Andy Cook who has been providing the Hand and Flowers with top-quality meat for nearly ten years, so we have high expectations.

The sausage rolls, already talked about among food sets, are calling so we order a few. No regrets, these morsels, served with piccalilli, are good enough to weep over – the flaky pastry ensconcing a perfectly balanced interior of thyme and pork with a hint of spice.

Next come colossal hot dogs in a mildly sweet bun – the sausage topped with pulled pork that has been slow-cooked for 12 hours, and chillies. We learn from butcher manager Steven Owens that the bread is made in a place called Burgers near by, where Kerridge apparently sources many of the loaves for his restaurants.

Today's meal is an informal lunch, not like a tasting menu you might experience at the Hand and Flowers on West Street (the road where Percy Bysshe Shelley lived when writing The Revolt of Islam). I leave the Butcher's Tap feeling wistful that a town like this has such an exemplary sausage roll. If every high street across Britain had access to these, Greggs would, no doubt, go out of business.

Next, it's on to Burgers, which we discover is a chocolatier-cum-patisserie-cum-tea-room, as well as a bakery. A cream cake and velvet-textured flat white stave off any postprandial lethargy. We saunter past the flint-front houses and along the wide High Street, arriving at All Saints church and Marlow bridge, a 19th-century grade I listed construction crossing the Thames.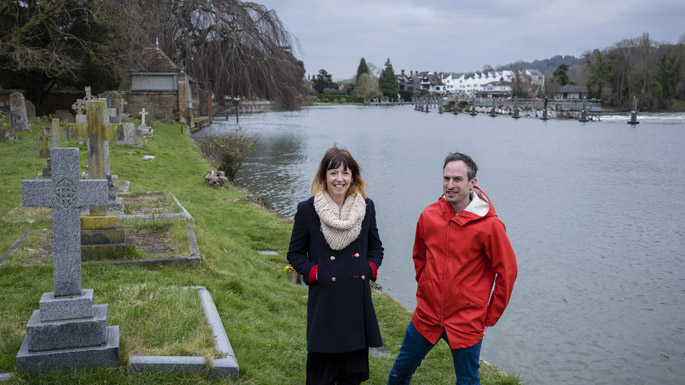 Looking down at the boats moored along the banks, while the blossom petals tremble on the trees, we conclude that Marlow's every bit as much a boating paradise, as a foodie one: I spot a poster advertising not one, but two regattas in May and June.

When we chat to locals, we hear that the Chequers restaurant is also a popular place. Serving dishes such as Dexter beef potato pie and 30-day aged Longhorn steaks, and with a space called the Churchill Tap, dedicated to all things craft beer, it's another comforting gaff.

A great benefit of knowing that we are going to catch the train home is that we plump for an aromatic pale ale, Brakspear Oxford Gold (local, of course), without worrying about being over the limit.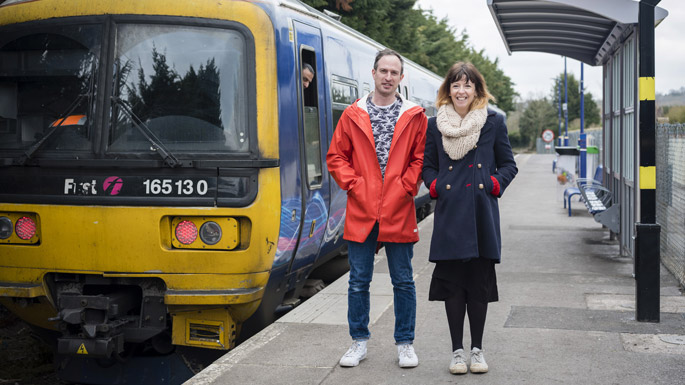 Before returning to the station, I spot the Ivy Marlow Garden, a brasserie off-shoot of the London celebrity haunt, and I cross the road to check its menu. A Negroni tasting set looks enticing for an evening aperitif, if staying over. But for us, it's back to the station and on to the train, and before long we're speeding through those painterly fields, our culinary escapade over.

Travel with GWR
From January 2018 GWR have been running Electrostar trains between London Paddington and Didcot Parkway:
•    57% increase in seats per train when compared to Class 16x Turbo
•    Free wifi
•    At seat power sockets
Find more inspiration and book your train travel at GWR.com